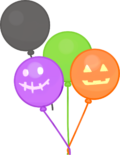 Fall is in full swing. It's a Halloween season!
Halloween on October 31 has been showing excitement in Japan for the past few years. In Japan, "Halloween" may be reminded of Halloween costume and parade rather than the origin of Halloween. Halloween is an event that celebrates the harvest of autumn and kicks out evil spirits. When the spirit of the deceased visited the family members, they wore masks and dressed up to protect themselves from spirits and witches coming at the same time. From these practice, children nowadays are dressed up and started trick or treat.
In Japan, there is a similar event during the Bon, such as a "grave festival", in which all residents in a region prepare the Bon festival, and families welcome the spirits of the ancestors and visit the grave.
It is also similar to the Setsubun, where we decorate holly leaves and sardines at the entrance of home to drive away the demons, and the Full Moon Night, where we celebrate the harvest and children walk with sweets. In Mexico, where I had worked before, there is a custom that they decorate the grave with a huge decoration, greet the deceased family members and friends, and have bright and fun time with the dead. Although religious meaning and historical background of the events in the fall season are different among countries, it seems to be common that they talk about memorable memories of their ancestors and appreciate the harvest in fall.
At Halloween, children in our neighborhood seem to come seeking treats. How do we prepare and welcome children? I'm very excited to have Halloween.